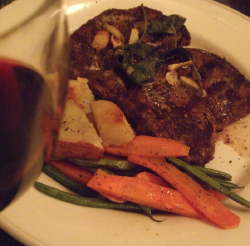 Live Oak's Lago di Como wows diners with its Italian specialties
I have heard nothing but praise for Lago di Como since it opened in December, so I made time to visit before its grand opening on Jan. 28 (5 to 9 p.m.). Once the word gets out about the authentic Italian cuisine, courtesy of Italian-born Chef Giovanni Spanu, reservations may become scarce.
Lago di Lake Como is located in the Lombardy region of Italy. The shores of this three-armed lake boast majestic villas, some built by the Romans.
The restaurant's interior looks nothing like that of its predecessor, Nuevo Southwest Grill. The single level of tables sit on a stone tile floor lit by contemporary wrought-iron-style chandeliers and sconces. Dark wood tables, shutters and a bookcase create a classic, warm ambiance.
Soft pillows of house-made bread were presented by our friendly and helpful server Toby, the brother of Spanu's wife, Mary Ellen, who is also of Italian descent and a co-owner.

There are numerous courses to choose from. Antipasti ($8.75 to $10.95) ranges from cheesy soft polenta with garlic-sage sauce to a platter of assorted imported salumi and marinated olives. Vegan Minestrone soup ($3.95 to $5.95) is served by the cup or bowl.
I had yearned for a pizza, but there were none listed. Apparently, the pizza menu wouldn't be available until the pizza oven was installed. But the kitchen had the capacity to handle an occasional order. Toby rattled off a few possible toppings and we settled on salami.
The pizza ($11.95) was served Italian-style, uncut, and was an exact replica of one photographed in my "Pizza Napoletana" cookbook. The thin, tender crust was surrounded by a puffed and toasted rim. Bubbles of melted cheese covered the thin slices of meaty salami. The overly serrated steak knife however, tore rather than cut the crust. Salads ($6.75 to $8.75) include Caesar, Spinach with raisins and caramelized walnuts in a balsamic reduction, and warm Insalata Caprese with fresh mozzarella.
Primi Piatti ($12.95 to $15.75) includes house-made gnocchi in a creamy four-cheese sauce, fresh house-made seafood ravioli in saffron cream sauce, seafood risotto, and penne pasta with marinara, beef Bolognese or chili-garlic-olive oil sauces.
Secondi ($15.25 to $25.25) presents an assortment of fish and meat dishes such as lemon-glazed fresh salmon and chicken scaloppini topped with spinach and mozzarella with a white wine lemon sauce served with couscous salad.
The night's special was a 14-ounce rib-eye steak ($23.95) in a light rosemary-sage butter sauce with roasted garlic and fried sage leaves. Expertly cooked, it was served with soft roasted potatoes and still-crisp carrots and green beans.
I equated the Spezzattino di Pollo ($21.95) with minimalist-style comfort food. With a stocky stew-like flavor, soft tiny peas, diced carrots and potatoes were mixed with chunks of chicken breast, and served on a bed of soft, coarse polenta.
To complete the evening, a dense chocolate soufflé ($5), ringed with cream and dusted with powdered sugar, was served with thick blackberry coulis and tart green apple slices.
---
Lago di Como Ristorante Pizzeria, 2-1490 East Cliff Drive, 454- 8257. Beer and wine. Serving dinner Sundays 5 to 9:30 p.m., Tuesday through Thursday 5 to 9:30 p.m., and Friday to Saturday 5 to 10 p.m. Closed Mondays. Visit lagodicomoristorante.com.