https://www.gtweekly.com/index.php/santa-cruz-wine-reviews/4559-silver-mountain-vineyards.html
TUESDAY, 12 FEBRUARY 2013 15:05 JOSIE COWDEN
DINING
– 
WINE REVIEWS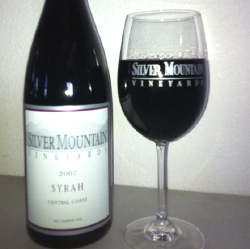 Syrah 2007: A desirable red wine for Valentine's Day
Looking for some sexy wine to drink over Valentine's weekend? Then I would recommend Silver Mountain's full-bodied Syrah.
This gorgeous rich wine has the classic meaty quality of Syrah with an abundance of dried blueberries, pepper and a touch of prosciutto. With juniper and allspice on the palate, and fennel, blackberry and blueberry on the nose, this is a delicious wine to simply enjoy. Syrah is also a very easy wine to pair with a variety of different foods—especially with all the decadent stuff you might want to eat this Valentine's weekend—chocolate, oysters, voluptuous desserts, titillating delicacies, and so on.
I took some of Silver Mountain's Syrah ($28) to the new Lago di Como restaurant to share with friends. Six of us polished off a couple of bottles and everybody loved it. And the wine went so well with all the marvelous food prepared by chef and owner Giovanni Spanu. My husband really appreciates a good spaghetti Bolognese so he was thrilled with this perfectly prepared Italian specialty. Spanu says that he uses only fresh food—and my fish tasted like it just jumped out of the ocean. With Silver Mountain's delicious ruby-red Syrah and Spanu's beautifully prepared temptations, we all had what I can only describe as a delicious evening filled with complex flavors.
Why not enjoy Valentine's weekend to the max and indulge in Bacchanalian delights for four whole days. Wear red, eat red food and drink red wine.